Gas composition:
Shale gas is natural gas extracted from shale layers, and its main body is located in dark mud shale or high-carbon mud shale. The natural gas in the sandy rock interlayer is mainly composed of alkanes, of which methane accounts for the vast majority, and a small amount of ethane, propane and butane. Inert gases such as helium and argon. In addition, many by-products can be obtained in the oil shale refining process, and the discharged gas, like coal gas, can be used to generate electricity.

The unit's requirements for shale gas:
■Within 1m from the gas inlet valve of the gas unit
◎Shale gas temperature ≤ 40℃;
◎Shale gas pressure 3~20kpa, pressure change rate ≤ 1kpa/min;
◎ H2S ≤ 200mg/Nm3;
◎ NH3 ≤ 20mg/Nm3;
◎The content of tar ≤ 50mg/Nm3;
◎Impurity particle size ≤ 5μm, impurity content ≤ 30mg/Nm3;
◎Moisture content ≤ 40g/Nm3;
◎Gas calorific value ≥ 4.2 MJ/Nm3
If the content of sulfur and ammonia in the combustible gas is high, it will not only seriously corrode the spark plug electrodes, but also increase the acid value in the oil, corrode the internal parts of the unit, and at the same time easily generate deposits, which will increase the wear and corrosion of the engine.
400 kw/500kw/600 kw/700kw shale gas generator set parameters: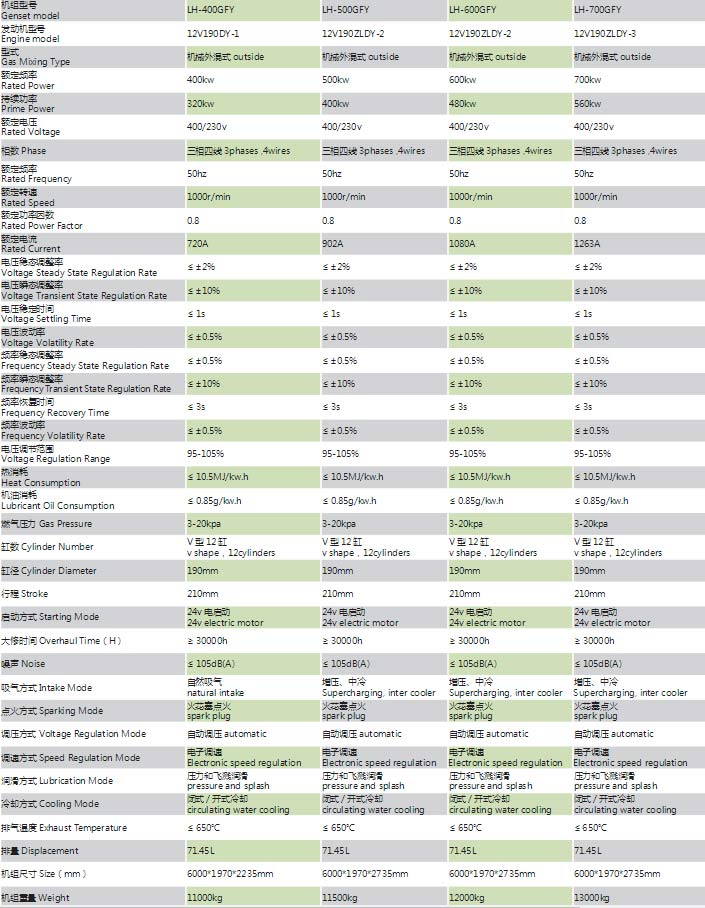 Lvhuan power shale gas generator set consultation Email: selena@lvhuandongli.com