Jichai Z12V190B series of high-speed and high-power diesel engines have developed into a series of products with complete models that can meet market demand. This product is widely used in oil fields, mines, power stations, dispatching locomotives, construction machinery and various ships. The leading product Z12V190B diesel engine is a high-speed and high-power diesel engine with a wide range of uses and excellent performance. After continuous improvement, the engine has absorbed the fruitful scientific achievements in the field of modern internal combustion engines. It has advanced technical and economic indicators, compact structure, quick start, and easy operation. , easy maintenance, can adapt to various environmental conditions and other characteristics. The machine has gradually become the leader of high-power diesel engines at home and abroad.
1. Main technical parameters of Jichai Z12V190B diesel engine:
Type: four-stroke, water-cooled, supercharged and intercooled, direct injection combustion chamber
Number and arrangement of cylinders: 12-cylinder V-shaped 60º angle
Cylinder diameter*piston stroke: 190*210 mm
Total displacement: 71.45L
Compression ratio: 14:1
Start mode: air motor, electric motor
Lubrication method: pressure and splash lubrication
Exhaust temperature (before vortex): ≤600℃
Outlet temperature: ≤85℃
Oil temperature (in the oil pan): ≤90℃
Main oil passage oil pressure: 392kpa-784kpa
Crankshaft Steering: Counterclockwise (viewed from the output end)
Manipulation mode: remote electric control, manual control
2. Main specifications and models of Jichai Z12V190B diesel engine: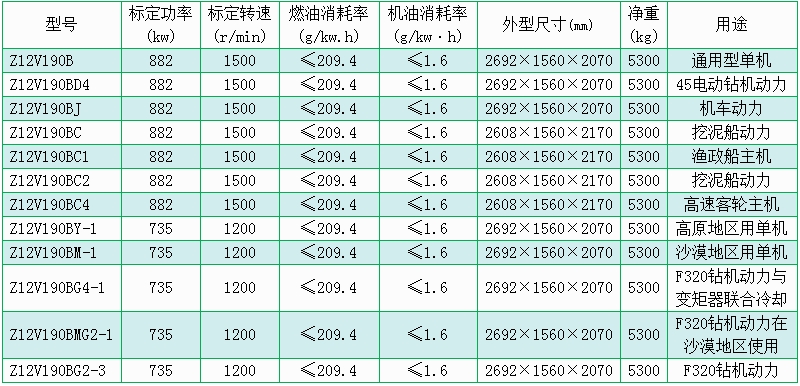 *If you need other information about Jichai 190 series diesel engine, or the diesel engine model not shown, please contact us. .
*Jinan Lvhuan Power is a professional manufacturer of Jichai 190 series diesel and gas engines with reliable product quality. Customers are welcome to inquire, Email: selena@lvhuandongli.com