4Diesel generator

Location:
Home
>
Products
>
Diesel generator
>
Lvhuan diesel generator set
1. Introduction of Lvhuan diesel generator set
Lvhuan diesel generator set is a diesel generator set powered by 190 series diesel engine independently developed and produced by our company. The Lvhuan 190 series diesel engine is based on the Jichai "190 series" diesel engine, which is the only one that has won the National Quality Gold Award, and has been improved and performance optimized to better meet the needs of customers.
Lvhuan190 series diesel generator sets have the characteristics of mature technology, stable performance, strong power, wear resistance and durability, and can adapt to long-term continuous work. The spare parts of this series of units are the same as those of the Jichai series, with a high market share, easy-to-buy spare parts, convenient maintenance and low cost.
Lvhuan diesel generator set is mainly used as emergency generator, backup power supply, fire safety power supply, construction power supply, independent power station, and is widely used in hospitals, schools, residential buildings, commercial buildings, factories and enterprises, engineering construction and other occasions.
2. Introduction to the composition of the generator set system
The generator set is mainly composed of engine, generator, coupling, electronic (electro-hydraulic) governor, heat exchanger (fan water tank), battery, exhaust muffler, public chassis, fuel tank, etc. Each generator set is equipped with a control panel. The engine and generator are installed on the common chassis through the connecting device to form an integral structure. The generator set can be installed in a skid on the cement foundation. According to the actual use situation of the user site, the cooling system adopts the cooling water tower provided by the user or the cooling system of the unit.
The exhaust muffler of the generator set is connected to the engine through the exhaust pipe and installed outdoors. The generator set control panel is installed in the power station control room, which can realize the automatic control of the generator set. The control panel has the alarm protection function of the generator.
3. Specifications and technical parameters of some Lvhuan diesel generator sets: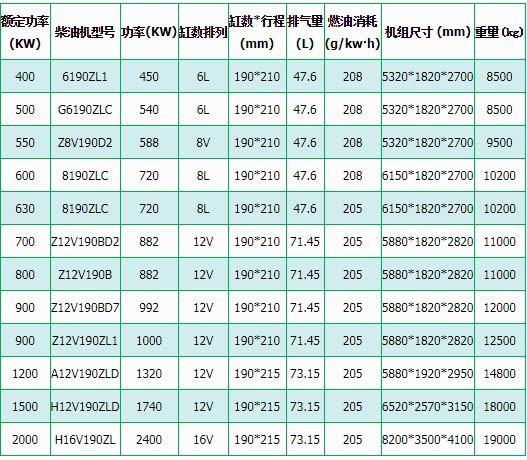 *The electrical specifications of the unit: rated frequency 50HZ (60HZ optional), power factor COSФ=0.8, rated voltage 400/230V, phase line: three-phase four-wire system
*If you need to know the quotation of a certain green ring diesel generator set or the information of other models not shown here, please contact us. Email: selena@lvhuandongli.com