4Diesel generator

Location:
Home
>
Products
>
Diesel generator
>
Weichai diesel generator set
1. Brief introduction of Weichai diesel generator set
The power part of the Weichai series diesel generator sets uses the land-based power generation series engines produced by Weichai Group, and is equipped with generators and controllers of well-known brands such as Siemens, Stanford, Leroy Somer, Marathon, and Inge. Engine product series include Yangchai series, Steyr series, Deutz WP4/WP6 series, WP10 series, WP12 series, WP13 series, 160 series, 170 series, Baudouin series, 200 series, 250 series, MAN series, etc. It is matched with well-known brand generators at home and abroad to produce Weichai series generator sets with leading domestic technology.
Shandong Lvhuan Power Weichai diesel generator set series power is 10-1000KW, the generator set has strong power, stable and reliable operation, simple operation, convenient maintenance, low operating cost, and three guarantees for the national chain of generator sets and accessories. Weichai series generator sets are widely used in hospitals, office buildings, shopping malls, factories, residential buildings, mine outdoor projects and other occasions as emergency backup generators, fire safety power supplies, and common generator sets. It has the advantages of rapidity, reliable performance, long continuous operation time, stable operation in various environments, and convenient maintenance and maintenance.
Weichai diesel generator set features
(1), low fuel consumption, low emission, low noise;
(2) The unit has excellent performance, advanced technology, reliable operation and convenient maintenance;
(3) High pressure regulation accuracy, good dynamic performance, compact structure and long service life;
(4) Weichai products carry out high-altitude, high-temperature, high-cold, and "three-high" experiments all year round, and have strong environmental adaptability;
(5), start quickly, and can reach full power quickly in just a few seconds, and the shutdown process with full load (normal 5-30MIN) within 1 minute of emergency is short, and it can start and stop frequently;
(5) The maintenance operation is simple, the number of people is small, and the maintenance is easy during the standby period;
(7) The product classification is rich, and the functional structure is divided into: use automation unit, rain shelter unit, low-noise unit, trailer mobile power station unit; industry is divided into: civilian generator set, military generator set, oil field generator set, telecommunications generator sets, etc.
2. Main specifications, models and technical parameters of Weichai diesel generator sets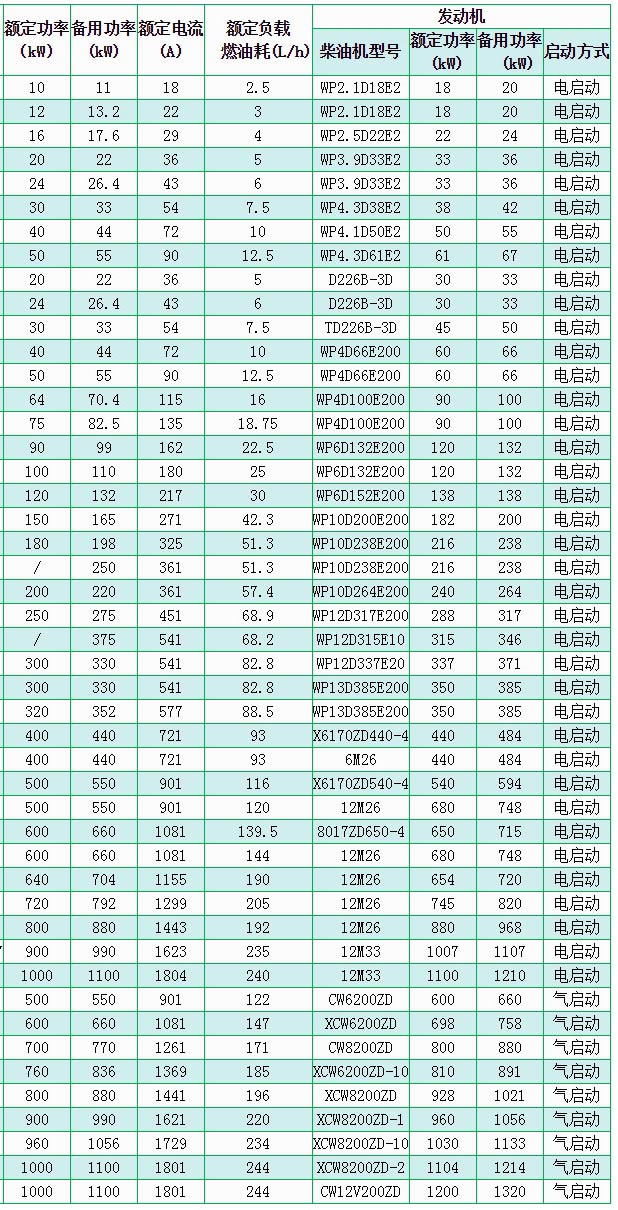 *The electrical specifications of the unit: rated frequency 50HZ (60HZ optional), power factor COSФ=0.8, rated voltage 400/230V, phase line: three-phase four-wire system.
*If you need to know other information of the unit, the quotation of Weichai diesel generator set or the parameters of the power model not shown, please contact us.
Email: selena@lvhuandongli.com